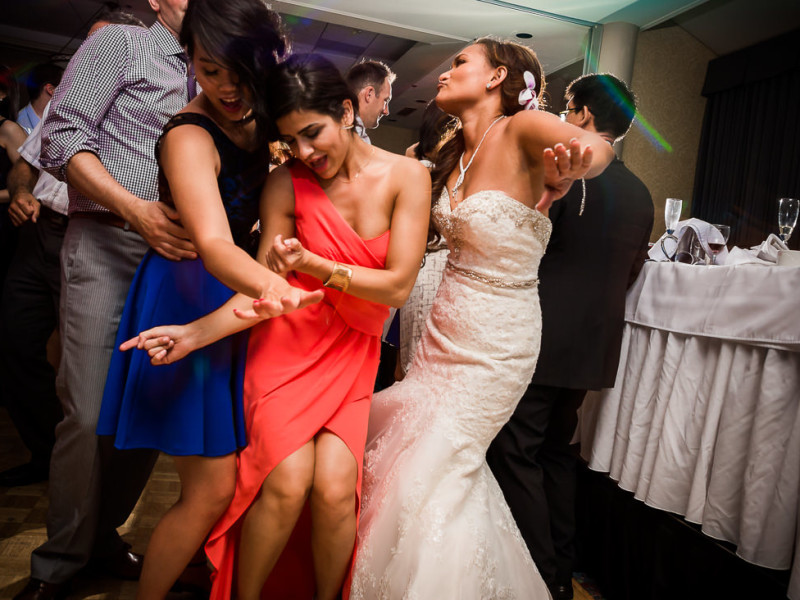 Overcoming bad and low reception lighting
Lighting is the single most important factor in photography.
When the evening comes and there's no more natural light, the bride and groom will ask me how do I deal with this lighting problem? Easy, I make my own.
You want the lights or flashes to shape, sculpt and highlight people or a scene. In photography, lighting a scene takes a bit of science and math. Most photographers think of themselves as artists, so when you throw a bit of science and math in there, then things get a little tricky. Luckily, I'm a nerd at heart.
When you're shopping around for a photographer, make sure you see pictures of the whole day. Not just the morning getting ready, the ceremony, group shots and portrait shots during the day. You will also want to see the evening and night time shots. What do the speeches look like? The cutting of the cake? The dancing and all the great moments that happen during the celebration of your day? And if the photographer ever says they shoot with the flash on the camera, run the other way fast!
I am more than happy to show every part of my past weddings to anyone because I know my inner geek nailed the lighting down for every scene I shot. Below you'll see examples of how I lit a variety of spaces and in doing so, was able to capture great laughs, raw emotions, rapping speeches, flying swords, and epic dance parties, all the while I'm eating cake from the dessert table.